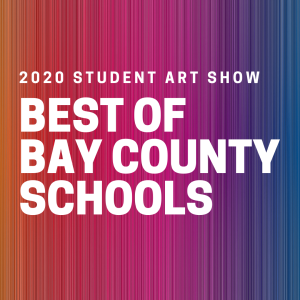 Best of Bay County School Art Show 2020
The Bay County Art Teachers Association(BCATA) would like to thank the Florida Art Educators Association (FAEA) for allowing us to use the virtual platform Artful Evaluations for our district art show when it was cancelled due to COVID-19 and Josh Bula for all of the IT support. Also, we would like to thank the Panama City Center for the Arts (PCCA), Jayson Kretzer and Dixie Clough for their continued support with publicity for the art show. PCCA along with the Bay Arts Alliance and Bay Education Foundation has always been a huge supporter of the fine arts for all our students and art teachers in Bay County.~~ With our deepest gratitude, ~~Jessica Hughson, Art Show Coordinator; Ashley Williams, BCATA President; Brandi Goss, BCATA Vice President; Jenn Hill, District Art Liaison; and Shannon Westlake, Treasurer --------- The Best of Bay County School Art Show is a accumulation of the best art from all the elementary and secondary schools in Bay County. ~~The show will close June 30, 2020. ~~Enjoy!
The show advances automatically, but you can also click-and-drag to the left or right to browse the artwork.